Event Location Ingolstadt – Celebrate on Board
Are you looking for a very special event location in Bavaria near Ingolstadt?
A location, that can make your next event or your company outing an unforgettable experience? Instead of renting a room or a celebration hall, how about renting an entire riverboat? We at Steibl Personnenschifffahrt Kelheim GmbH offer a variety of options.
The Special Location for Assorted Occasions
Our riverboats in Ingolstadt and surrounding region are beautiful Unique locations for events such as:
Wedding
Christmas Party
Company Convention
Company Party
Summer Party
Whether you, along with your relatives and friends, wish a summer evening atmosphere enjoying cocktails upon the deck or in winter admiring the snowy banks of the Danube from a window with a glass of Glühwein (warm wine) – our Riverboat cruise makes your celebration or your organization's next outing a truly memorable experience!
We can also assist with appropriate accommodations or interesting sights along the route or an excursion program in Ingolstadt and surroundings. Together, we can plan and compose your "Wish Program" for a very special event that shall be memorable for your family, friends and co-workers alike !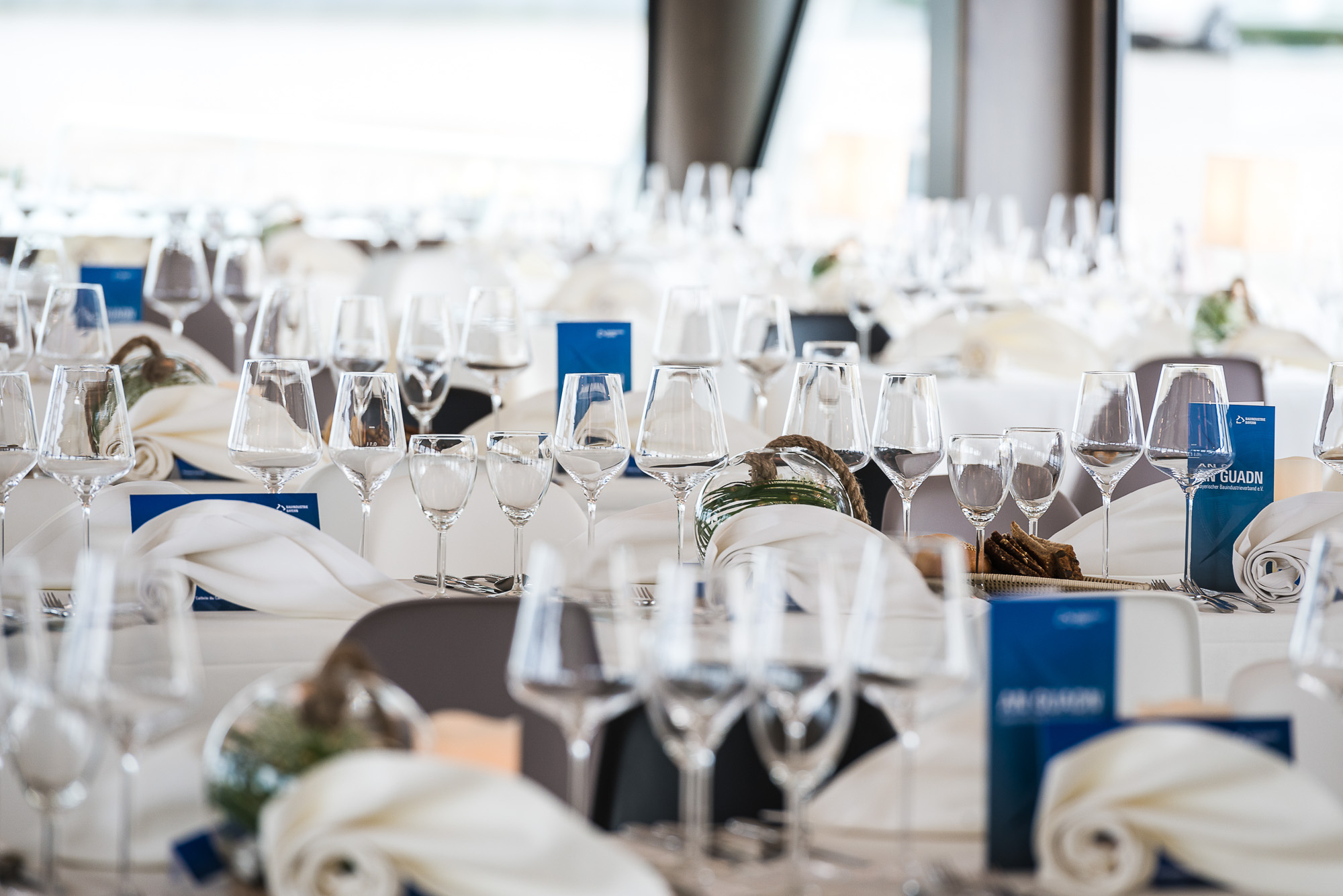 That Special Ambience for Unforgettable Events
In particular, for company celebrations in the Ingolstadt surroundings, we offer the suitable ambient. Regardless if you are planning an organizational outing or an outing for a team event – for your occasion we can create the proper framework on our floating location.
If you require a deck or an entire riverboat – we can put together a suitable offer!  Moreover, we can support you with everything required for a successful eeeting or team building event.
Good food, for example ! On our riverboat you can be catered to all the way around !
Our onboard kitchen staff takes care to provide the best food – whether menu, buffet or coffee and cake, we gladly deliver the appropriate meal for your celebration or organization's outing. Enjoy our gastronomic performance, friendly service as well as drinks at the bar.
Modern Riverboats on the lovely Danube
Within the Ingolstadt area there are three day trip riverboats at your disposal.
They are all compliant to people with handicaps and make possible all travellers in Bavaria to experience the beautiful Danube. Within the scope of our riverboat routes from Kelheim to Riedenburg, we travel the Danube-Main canal which allows you to experience the ruins and castles in lovely Old Mill Valley – an unforgettable location! The landscape is ideal for a summer party and is just as attractive for a snowy Christmas celebration.
You can reserve a deck on regular cruises or a complete riverboat. In this case, the departure date and time as well as the complete program is up to you. Upon request, individual cruises are possible, so within the scope of possibilities the riverboat is at your disposal. Contact us for our best offer, appropriate for your event!
The Steibl Personenschifffahrt Kelheim GmbH has piers in Kelheim and Riedenburg from where party-goers and the beauty of the Old Mill Valley and the Danube are brought closer. Two big Riverboats are ready to provide people or companies unforgettable Events.  Many planned as well as privately agreed Events – such as Weddings on board – can be initiated in all seasons, year-round. The Riverboat tour on the river to Ingolstadt and surroundings allow passengers to dive into the green Danube landscape – a special background for a special festivity. The big city of Ingolstadt in bavaria is not only fameous in the area of sports (Scoccer, Hockey), but also valued for it's charming midieval alleys.  In view of a party on an Event Riverboat, you can observe Ingolstadt from a different perspective. The entire Steibl Personenschifffahrt GmbH Team shall be happy to receive your inquiries.